Review: Ghosts of War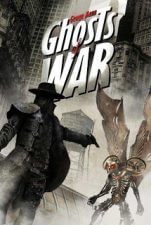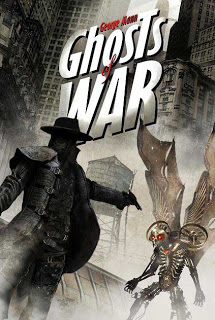 Amazon
There's a reason we like George Mann's work. It's all fast-paced, fun, and can be read without having to work at it. GHOSTS OF WAR (Amazon) is Mann's second Ghost novel, and follows up immediately after GHOSTS OF MANHATTAN. It has pretty much all the elements that made MANHATTAN fun, yet also seems to have more flaws than the first entry.
Mechanical, bat-like constructs are terrorizing the city of Manhattan. They swoop down and abduct random people off the streets, and those people are never found. The Ghost does what any good vigilante hero would and tries to solve the mystery. He is helped once again by Detective Felix Donovan—one of the few who know the Ghost's real identity.

There is something you have to understand about the Ghost novels. They aren't meant to be the pinnacle of literature. They are pure leisure reads and will be enjoyed by those who dig novels with pulp sensibilities. GHOSTS OF MANHATTAN was steampunk Batman with some Lovecraft thrown in at the end. We loved it. Others don't because they seem to be taking it far to seriously. GHOSTS OF WAR is the same thing. When describing this book (and really while writing this review), we feel like we should do it in that old-fashioned TV personality way. You know, with dramatic music and everything. Will the Ghost survive this encounter? Dun dun DUNNNNNN!!!
The good here is that Mann tries to give a little more weight to the Gabriel Cross/Ghost dynamic. Which one is the real personality, and which is the mask? It's the same question explored in every superhero comic/book/movie. Overall we felt Mann did a good job here. Cross/Ghost is still a good character, and Donovan remain excellent as well.
IN GHOSTS OF WAR, mechanical, bat-like constructs are terrorizing the city of Manhattan; they people off the streets, and those people are never found.
Unfortunately the other main character, Ginny, doesn't fare as well. We kept waiting for her to be revealed as someone important: a spy, a supernatural hunter… something. But she never was. She was oddly good with guns, and was kinda a love interest, but she never really took on any personality. She was more of an object that was made into a person. We still aren't really sure what her point was in the novel. She appears, does a couple things, then vanishes. Will she have a bigger role (and a more explained and less coincidental role at that) in future novels? She better, or what was the point?
There are also a few logic holes in the novel, mostly with how certain creatures are destroyed, and with how TOUGH the Ghost is. We lost track of how many times he was stabbed, battered, and bludgeoned… and yet he was always good to go. Normally these things get overlooked in long novels, but GHOSTS OF WAR isn't long. It's really short, so every flaw stands out and seems more glaring.
If you liked GHOSTS OF MANHATTAN, you'll like GHOSTS OF WAR. It's really that simple. The setting is a fun as ever. The extended information on the conflict between the British and the U.S. is pretty awesome. The action scenes are thrill rides of entertainment. This isn't Mann's best work, but it serves its purpose. It's fun, fast, loose, and action-packed.
We definitely look forward to the next one in the series.
Recommended Age:

17+

Language:

There is a bit of strong language, though it didn't seem like there was as much as in the first novel

Violence:

Well duh. You read the first one right? Flechettes, guns, explosives and monsters. This series is pretty violent. Again though, the pulp-nature of it kinda makes that a must.

Sex:

No detailed scenes, but some conversations about it