Review: The Scarab Path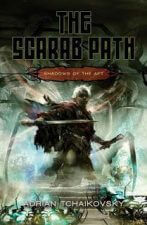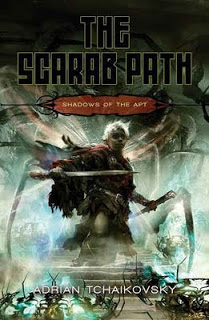 Amazon
Adrian Tchaikovsky is gold! Gold, we say! We have stated over and over in our reviews that one of the main things we look for in a series is growth. Growth in the story, growth in the characters, and especially growth in the author. The instant we began reading Tchaikovsky's work we were hooked. Sure, EMPIRE IN BLACK AND GOLD had some problems–what authors don't have problems in their first novel? But even with those problems, EMPIRE was awesome. With each novel he got better. The problems slowly vanished. The characters in the series matured. The setting, somehow, got infinitely better. It got to the point where we were mentioning Tchaikovsky in the same breath as our favorite authors.

The first chunk of Tchaikovsky's Shadows of the Apt series came to an end with SALUTE THE DARK. It was his best novel yet. Unfortunately, as many of you know, we are paranoid readers. We constantly fear that the next book by our favorite authors will be a let-down. So when Tchaikovsky's fifth novel, THE SCARAB PATH (Amazon), was sent our way we dove in with a mixture of nervousness and excitement.
It only took a few pages for us to realize this novel was going to be awesome.
THE SCARAB PATH reads like a new beginning to the Shadows of the Apt series. The pacing of the beginning is slow, yet extremely interesting. Following the events of the the last novel, in THE SCARAB PATH we are reintroduced to Tchaikovsky's characters… only they are all broken. The loss they have all suffered is illustrated to perfection. This novel mostly follows Che as she is sent as a delegate to a backwater city called Khanaphes. Everyone wants the city for different reasons, and the city is the core of the mystery in this novel.
The main characters of this novel are Che, Totho and Thalric. Totho became awesome in the last novel, and Thalric has always been a pleasure. But Che… she's a different story. She's always been our least favorite of the characters. So color us impressed when Che was a supremely entertaining read for the entire novel. It all leads back to growth. When we looked back over the series as a whole, it was truly in this novel that we got to see Che take huge steps as a character. While she maintains those few small nuggets of character that keep her anchored in her unique position, she now has grown into a strong and entertaining read. Perhaps the main thing here is that she doesn't stumble and bumble the whole novel. She becomes more decisive.
Throughout this series we've seen the world advance technologically step-by-step. So this was the perfect time to introduce a city that refuses to advance in a similar fashion. In every novel Tchaikovsky manages to surprise us. He manages to introduce something new and fresh. The city of Khanaphes and the mystery surrounding it add such a cool dynamic to the novel. Really what this all boils down to highlighting the disparity between Apt vs Inapt–something that hasn't ever been totally explored in the series so far.
But what would a Tchaikovsky novel be without war? Every novel in this series has a fresh sort of battle scene in it. We get sieges, coliseum battles, guerrilla strikes, germ-warfare…the list goes on. In THE SCARAB PATH we get a battle that reminded us a little of 300. A small force holding a choke-point against overwhelming odds. The writing here was so clear that we could visualize every little piece of the action. For us it ranks as one of his top action/battle sequences to date.
The real treat, however, is the end of the novel. When the mystery is revealed, it gave us chills. This novel works perfectly as a stand-alone novel following the first 4-book arc, yet it also sets up the next novels in the series without resorting to being just a set-up book–the balance is spot-on.
The main thing we want to point out though is that all those tiny issues that bugged us in the first novels are gone. There are a lot of new authors out there that should read Tchaikovsky's work as an example in growing as an author. As aspiring authors ourselves, we look at Tchaikovsky as one of our main examples to follow. He get's better with every book, and learns from his successes and small mistakes.
Adrian Tchaikovsky is gold! Gold, we say! And THE SCARAB PATH has everything in it that we have come to expect from Adrian Tchaikovsky.
THE SCARAB PATH has everything in it that we have come to expect from Adrian Tchaikovsky. An amazing world, evolving characters, incredible actions sequences… it's all here. Plus we get an old-fashioned mystery thrown in, and some insight into the history of the world and the old races. What more can a reader ask for? This is easily Tchaikovsky's best novel yet, and we cannot wait until THE SEA WATCH is put out here in the US.
In all honesty we may not be able to wait…
Recommended Age:

15+

Language:

A little

Violence:

The action here is described so clearly that all the violence has greater impact. It does make it all more brutal, but the skill of the writing removes it completely from the realm of shock-value. Our hats are off to Tchaikovsky.

Sex:

Nope
We recently discovered that Adrian has a bajillion short stories on his website http://shadowsoftheapt.com/. We knew he had a couple, but man, there were way more there than we realized. Adrian REALLY needs to put all these out in a collection.