Review: The Unremembered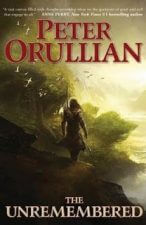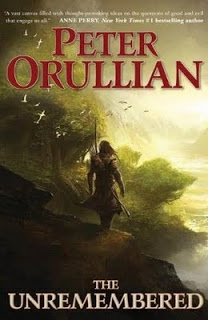 Amazon
The hardest part of being a book reviewer is putting together a negative review of a book when you don't want to. This happens for a variety of reasons, but mainly has to do with the author himself (or herself as the case may be). If we hate the author, or absolutely hate a novel, writing a scathing review is simple and enjoyable–therapeutic even. But with a novel like THE UNREMEMBERED (Amazon), well, we almost didn't even write this up. But then we realized the potential disservice we would be doing you, the readers, and the author, Peter Orullian, by leaving this unreviewed.

We are going to tackle this review a little differently from the other negative reviews we have written. Hopefully it comes across as constructive rather than destructive. Peter is generally regarded as a good guy by people we know. As you readers may be aware, we are alpha readers for several big-name authors. They send us an early draft of the completed novel, and we read it over and give detailed feedback on what we liked and/or had problems with. We are going to do the same sort of thing here for Peter Orullian–albeit in a spoiler-free way so you readers can still make your own decision at the end. That's right folks, we are going to be the "nice guys" today. Don't get used it.
Let's start off with the good from Peter's debut novel. The cover art is absolutely beautiful. It in itself will sell the novel to a good number of people. The map inside is perhaps the single best map we have ever seen in a fantasy novel–and we've seen some great ones. Our good buddy Isaac Stewart–you know him as the artist from the maps in the MISTBORN series and THE WAY OF KINGS–told us once that the person who did this map deserves a Hugo. We agree.
We aren't going to lie to you, that was about it for us. This book was a huge disappointment. Where does this disappointment originate? Well, from the beginning. From the story itself.
THE UNREMEMBERED starts off with a boy from a small town. He is fantastic with a bow. He has stars in his eyes about life outside the town. When out hunting one day, a mysterious and evil creature chases him, threatening his life. Upon returning to his village, he finds that two foreign strangers have come. They soon tell our main character and one of his friends that they need to leave their village because the evil bad guys are coming for them. Have you heard this before? We have. We've seen this story from Terry Brooks, and more specifically from Robert Jordan. At first we thought it just a coincidence arising from the "coming of age" type story we were reading. But as the novel progressed, we soon were predicting each plot point specifically as it came… based on the plot and progression of THE EYE OF THE WORLD.
THE UNREMEMBERED isn't just loosely similar to THE EYE OF THE WORLD. It follows it near exact. Think of every major plot point from the first Wheel of Time novel, from beginning to end, and you can find a parallel in Orullian's novel. Suppose we were in a writing group with Peter. The first thing we would have pointed out is this blatant similarity. Perhaps it is the industry's desire to have another Wheel of Time, but isn't this taking it a bit too far?
The characters follow the same template that Jordan's do. We could point at character and say, "Oh, this is Mat. That is Rand." One of the characters is Moiraine, only as a dude. The other is Lan, but a chick. Simply reversing the gender of roles is not enough to make it new. Now there are fans of this novel out there who are starting to foam at the mouth a bit. Doubtless they will want to point out that not every character has a WoT counterpart. True enough. But over half do, and most of the main players.
The review that initated a beautiful new relationship between EBR and Peter Orullian.
One of the mistakes it seems all first-time fantasy authors make is the whole "invented word syndrome." We've been trying our hand at writing, and we've each been guilty of this. Too many made-up terms for normal words doesn't add any freshness. They don't add uniqueness. All they do is pull a reader out of the moment as they spend a few moments trying to figure out what the word actually means. Words and names littered with apostrophes used to be super vogue. No so much anymore. Even the authors out there with the highest learning curves are careful about what they make up. Don't make it harder for the reader than it needs to be.
One of the storytelling techniques that bothers us the most is when information is completely withheld. "I'll tell you when you're ready." "This is not the time to discuss that." "I'm a mysterious bastard, and will berate you for not knowing what I refuse to tell you." These types of responses happen every single chapter. We could only shake out heads in dismay as the Moiraine/Allanon hybrid character would tell the other characters that there wasn't time to explain anything… as they rode slowly for days at a time… or as they sit around a campfire talking about history for hours at a time. To us, this isn't fair to the readers, nor is it good storytelling.
Like most first-time authors, transitions are extremely rough. There is a side story being told, for example, that when introduced has no time-anchor on it. It comes at a confusing time that immediately cripples the momentum of the scene it interrupts (can't get more specific than that due to heavy spoilers–it's pretty early on). We literally read that section a half-dozen times trying to figure out just what the heck was going on, and when it was happening. Part of this has to do with Orullian describing things that don't need it, while ignoring what needs clarification. These are the types of things that, as alpha readers, we point out. Even the most derivative story can be enjoyable if it is smooth and accessible.
We are ultimately left feeling the Orullian played it incredibly safe with THE UNREMEMBERED. Though it has some interesting theology mixed in, it still feels like EYE OF THE WORLD rewritten. The characters act in unbelievable, yet utterly predictable ways. This novel needed a few more heavy drafts in our opinion.
We've said a lot of negative stuff here. We just didn't like it at all. Hate? No. We didn't hate it. THE UNREMEMBERED feels half-done. It feels like a novel still in its draft form. It feels like a copy. The good news is that Orullian still has time to make it right. It's our opinion that you can't play it safe as a writer anymore. Writers have to take risks. Orullian isn't a bad writer, he's an inexperienced one. A lot of these issues can get worked out through simple experience. But the story? Sorry man, this needs a radical shift. There are readers out there that will like this novel due to its absolute similarity to that Jordan/Tolkien/Brooks story we've all read dozens of times from dozens of authors. But that isn't good enough for us. It isn't good enough for the thousands upon thousands of discerning readers out there.
We doubt Peter Orullian will read this review. That's fine. Regardless, we want him to know that we really WANT him to get better. Twist the crap out of this clichéd story with its clichéd characters. Stop playing so safe and predictable.
Again, writing a negative review like this is never easy. We could have sugar-coated it, or completely swept our opinions of this under the rug. No insults here, just our honest thoughts. You decide if you want to read this novel or not.
Recommended Age:

16+

Language:

Nope

Violence:

Mixed bag here. Sometimes it's well done, other times it is completely terrible--transitions and clarity are important in action scenes.

Sex:

Rape is talked about pretty frankly
*** This book is part of the Vault of Heaven (EBR Archive) series. Since the writing of this review, the author has released an updated "definitive" version of this book, so this book hasn't been tied to the series like it would normally be. You can check out the current series through the link though.