Interview with Ed Greenwood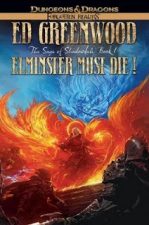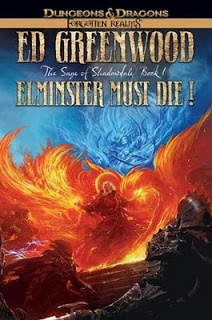 Really, if you don't know who Ed Greenwood is, you've been living under a rock somewhere. In the Antarctic. Now you may or may not read his books. You may or may not like what you have read. It doesn't matter in the end. Ed, as it turns out, is one of the nicest people we have ever interviewed. He is also one of the most honest about his own work. Check out the following interview with him and we triple-dog-dare you not to be impressed with this guy. Also check out the text after the interview to find out how to win a SIGNED copy of Ed's new book ELMINSTER MUST DIE.

***The Interview With Ed Greenwood***
Whenever we have the chance to interview authors, the first thing we like to do is give them a chance to brag little (or a lot). Ed, we want you to leave humility at the door, and tell us and our readers why they should be reading your works. What makes you awesome?
Hmm. I'm more humble than braggy by nature, so I'm not going to be very good at this, but here goes…
I've written (and published) more than 130 books, so I'm either doing something right or fooling a lot of editors. I've won awards and had bestsellers. I've designed probably THE most detailed fantasy world-setting ever (yes, bigger and deeper than Middle-Earth) and detailed a lot of it, working for forty-some years on it thus far. I love characters and my tales focus on them, witty dialogue and all. I enjoy writing scenes of defying evil or misplaced authority, and LIVE to describe wild spell battles.
Most importantly, I LOVE writing fantasy, sf, and pulp adventure, and I think it shows in the writing. Why read something that the writer hasn't had lots of fun creating for you?
You've written 30+ novels, campaign settings, articles… how do you keep it all fresh?
It's that spirit of fun. I approach everything as a challenge: I have this much time to get from Here to There, or to create This effect; what's the most fun way to do it? Or, how can I do it involving this character and a mad thinking castle and a drunken dragon, or making sure the fat guy slips on the banana peel in a way that surprises the reader? Right, here we go, and wheeee!
THAT'S how I keep it all fresh. If I'm collaborating with someone, I want to do it differently than any other collaboration I've done. If I'm using a place or characters I've used before, what can I do with them that's new, or at least different? And so on. I'm going to die someday, and I've got SO many tales still to tell! So let's get this show back on the road!
With your latest Elminster novel, ELMINSTER MUST DIE (Amazon), you've returned to one of the most iconic characters in the Forgotten Realms. Give our readers a brief blurb of this latest offering, and if you will, is there anything different you do when writing in a shared/established Wizards of the Coast setting as compared to something outside the Forgotten Realms?
The Spellplague has come to the Realms, and almost a century has passed. Elminster, Storm, and The Simbul have all lost their goddess, their status as Chosen, and something else: Elminster – his eagerness, vitality, a lot of his magic, and his hold on his sanity; Storm – almost all of her magic; and The Simbul – ALL her sanity. El still loves The Simbul deeply, and is trying to make and keep her sane by feeding her magic, which he's stealing wherever he can. Notably in Cormyr, where his thefts have made the War Wizards fed up with him and determined to destroy him. Weak and desperate, hoping to find someone else to take over his cause of "saving the Realms" by spreading use of magic to everyone, high and low, so no one can survive as a tyrant by using magic on others or by brute force of arms if no one has magic, he doesn't even notice that old, old foes are hunting for him, intending to take revenge by killing him at last…
Now that's the chords-of-doom setup, but the story also has a young and flippant noble, lots of other and more dastardly nobles, deadly slayers, a nearly nude "mask dancer," an angry ghost, and some infamous thieves. Oh, and one very rude fat old man.
When writing in the shared world setting of the Realms, I'm always mindful of "not breaking the toys," which means not killing or altering characters other writers and designers might use, and not narrowing down gaming or writing possibilities by making too many definite, clear statements and eliminating people, places, and things.
When I'm writing in my other settings, such as Falconfar, Castlemourn, Niflheim, or others, I don't have to hold back. I can make big changes during a story, and kill and blast to my heart's content. Yet at the same time, I have to do more explaining. Unlike the established, very detailed Realms, I can't rely on readers knowing anything from previous books. The entire impact and coherence of scenes depends directly on my setting it all up for the reader, right then and there within the same story.
We hear from our readers, and have noticed ourselves, that your characters often seem so tough, and nearly invulnerable at times. Why do you think there is this perception, and how have you learned to balance this in terms of creating situations where your characters actually seem in danger?
Shining invulnerability, or an established perception of it, is a big problem when writing about iconic characters. If the reader thinks Elminster (or any other character in a story) is never going to be in real danger, it robs the tale of a lot of excitement.
The only exception to this is when I'm writing pratfall scenes, where the attraction is to see what sort of mess the character (such as, say, Mirt the Moneylender) gets himself into THIS time.
Much of my Realms fiction (which is work-for-hire, so I'm agreeing with editors and designers about what stories to tell, not riding off freely to write whatever comes into my head about new and uncharted territory) has dealt with powerful wizards, rulers, and other "fixture" characters, people who have a lot of power and throw it around, so they can seem very powerful.
Yet if you read The Temptation of Elminster or Elminster in Hell or this latest book, Elminster Must Die, Elminster makes a lot of mistakes and some very bad things happen to him; he goes through agony, he doesn't always emerge victorious, and often pretty much accomplishes only one thing: he survives, and outlasts some of his foes.
In Death of the Dragon, Troy Denning and I killed off a very popular character (King Azoun) that most Realms fans never expected us to touch, and were quite surprised when we didn't just resurrect him at the end of the book or in an immediate sequel. And the body count of lesser characters in my books is immense (to the point that editors often tell me to tone down the killings), so my characters are nowhere near invulnerable.
For those wondering what will happen to Elminster in Elminster Must Die, let me say this: the title is NOT false advertising.
One of the reasons Elminster may SEEM invulnerable is that he often acts as if he is, bluffing his way through a situation with drawling arrogance when he's really "flying by the seat of his breeches," like the old Saint character of all those mystery/thriller tales.
I work against the perception of invulnerability by bringing the reader close in to the action, so they can see just how dangerous situations are, and how the characters handle peril and pressure. WHY they do what they do.
Heroes and villains, however flawed, are inherently more interesting than terse, expressionless spear-carriers, of course, so there's a fair bit of emoting and running around and saving the world. It's more fun when the stakes are high.
Fans of your work have been following it for decades now, and have become pretty dedicated. How much attention do you pay to their feedback, and do you ever sneak in any "fan service" into your works?
When I started writing about the Realms, back in 1966 (yes, well before there were any fantasy roleplaying games), I was writing just for myself, and my big drive was to explore this place, peek around every corner to see what was there, and describe describe describe in a mad rush to see it all. When D&D® came along, it was a new "language" to describe the Realms in, and I adopted it, writing many Realms articles for THE DRAGON, as the magazine was known back then, starting in issue 30, but my drive was still to detail and explore it all and share it with the rapidly increasing ranks of fans.
The editors and designers at TSR (Jeff Grubb, first and foremost) were my first "tell me more about this" and "explain that" feedback, and then the fan feedback started. Which I've paid close attention to, ever since. Not to steer WHAT I put into the world, because I was still busily getting down into print what I'd already imagined, but to steer HOW I described it, and what I explained more of. So I don't "take ideas from fans" and put them into the Realms, but I pay close attention to what they want more of, what they didn't like or didn't "work" for them (fans of course often have very different likes and dislikes from each other), and what seems to be misunderstood or complained about most often. Yes, I sneak fan service or "Easter Eggs" into my Realms writings, and always have, but I'm not going to give any examples. The fun lies in spotting them, or being the people they are aimed at and having that warm private smile or explosion of laughter or moment of tears, when they find those little touches.
Thank you for taking the time to drop by, Ed. Any parting words for the fans and readers?
My pleasure. I always love talking about the Realms. I'd like to tell the fans: the Realms is very much alive, and there are still LOTS of Realms stories to tell! I'd like to tell my readers: with every Realms book I write, I think I get a little better, and Elminster Must Die is probably my best book yet. Well, except for its sequel…
You don't have to love Elminster to have lots of fun with this book. Heck, you don't even need to know much about the Realms, because the "timejump" starts the story off afresh. Yet if you've loved the Realms for years, the post-Spellplague world, at least where Elminster is, in and around Cormyr, isn't all that different. Same suavely annoying nobles, same even more annoying War Wizards, same whiff of treason around the Court…
Heh. Let the adventure begin!
****
What did we say? Ed is a complete class act. We are so thrilled that he took the time to answer our questions so completely.
We are just the first stop on his blog tour. The next leg of it picks up next Monday. Go run buy the following blogs to see what else Ed has to say!
Monday, August 9th – Sci-Fi Fan Letter
Tuesday, August 10th – Flames Rising
Wednesday, August 11th – Suvudu
Parting Note: We have five (5) SIGNED COPIES of ELMINSTER MUST DIE to give away to US and Canadian residents (sorry everyone else! We still love you!). You want a copy? Well, you know how it works for these things. Either post a comment/question below, or send us an email telling us your best Ed Greenwood story or asking an awesome question.
Also, WotC is running a contest: Should Elminster really die? Should he live? Tweet your case (in 140 characters or less) for a chance to win a trip for two to Gen Con Indy 2011. Complete the official entry form first, then include @WotC_Novels and #elminster in your tweet. The judges will review all eligible entries and will select one grand-prize winner based on originality/creativity (50%) and sense of humor (50%). Entry form, complete details, and official rules here.