Review: Gardens of the Moon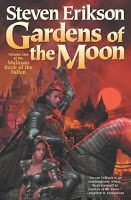 Amazon
Since DUST OF DREAMS (Amazon) is coming to the US soon, we thought we would go back to the series' roots to both introduce newcomers and invigorate the old-timers. GARDENS OF THE MOON by Steven Erikson (Amazon) is not a simple novel–in fact this novel has, arguably, the steepest learning curve of any fantasy novel to date. This review will be a tad longer than usual, but it deserves nothing less.
GARDENS OF THE MOON is the first tale in Erikson's Malazan Book of the Fallen series. Currently we have eight novels released in the series (with the ninth out in the UK now–yeah, yeah, we are waiting for our import copy), three short stories, and two other novels written by Erikson's co-creator of this vibrantly imagined world, Ian Cameron Esslemont. We tell you this so you will understand the investment of time, should you start this series. The best part of all of this? Erikson doesn't make us wait half a decade between his encyclopedia-sized tomes (you know who we are talking about). A book a year is the pace Erikson has set, which is downright awesome.

When you start GARDENS OF THE MOON, you will be introduced to approximately 9 million characters. In the first chapter. OK, we exaggerate a bit, but you get the point. As opposed to the more traditional approaches to Epic Fantasy, where we have page after page of exposition, Erikson throws us right in the middle of the action. It is possible for even the most experienced fantasy reader to feel a bit… behind. Maybe asking if there was a novel before this. There isn't, and that is what intrigued us initially.
Of course as with all Epic Fantasy, this world the story takes place in has been around for ages, with its own history and what have you. The difference is that Erikson doesn't bother going into it all. Despite the length of the series, it comes across as a very day-in-the-life-of. And Erikson makes no apologies for this difficulty, and shouldn't have to. The story is reward enough.
If reading Epic Fantasy is like diving into the deep end of the pool, this book is like diving into the ocean, with sharks.That may sound intimidating. Our response to that would be, simply, it is. But after the intimidation passes, and you make friends with the sharks, this ocean has infinitely more to offer than the standard deep end of the traditional Epic Fantasy.
This series (which GARDENS OF THE MOON begins) will blow you away, and might make you reconsider the quality of every other fantasy novel you've ever read.
This steep curve may discourage you from attempting to read the books in this series. Simply put, you need to (remember, you should do what we say). Book one is wildly entertaining, if difficult to follow at times. Books two and three will convince you that this is, perhaps, the greatest fantasy epic in print. It is equal parts epic, heroic, and dark fantasy, with an uncanny knack for making you laugh despite the utter horror that is being inflicted on these characters.
We once spoke with Jim Minz–the editor who brought Erikson to the US after other editors thought the Malazan series was too intellectual for our readers here–and he said that Erikson's novels were like reading a novelization of the classic war movie Platoon… only not as happy… and much more brutal and entertaining.
This series will blow you away, and it might just make you reconsider the quality of every other fantasy novel you have ever read.
Recommended Age:

18+. Not because of mature content, but because we worry at the ability of a kid sticking with this first novel, and understanding what is going on.

Language:

Hardly any. It impressed us that Erikson is able to express so much without using hardly any swearing.

Violence:

Oh yes, but somehow it doesn't feel over-done or gruesome. Is it Erikson's prose? We don't know, but somehow we get the awful brutality and emotional impact of the violence without being overwhelmed by it.

Sex:

There are some moments of innuendo, but nothing graphic. Once again, impressive.
Note From Steve: It always scares me to recommend Erikson to anyone, because I want so badly for everyone to love his work like I do. I was introduced to this series by one of my best friends, Ryan McBride, and I feel I owe him a considerable debt for changing my view on fantasy. After I was hired on at the Waldenbooks by Ryan, he asked me what types of fantasy novels I read. Here is how the basic conversation went:
Steve – "I like Terry Brooks, David Eddings, and Robert Jordan–"
Ryan – "What is wrong with you? Take this Steven Erikson novel home and read it by Monday."
Steve – "But I–"
Ryan – "Do it or I will fire you."
Steve – "Ok…" (queue sad music from Arrested Development)
I read. I loved. I made it my mission in life to get people to read this series. Just when I thought I couldn't be more impressed, I read book 2 and book 3. I tell you honestly, that I have never been so emotionally stuck by novels as I was by those two. Ever. Steven Erikson turns me into a simple fan-boy. I bought a BEAUTIFUL edition of GARDENS OF THE MOON from Subterranean Press for $125 (the cover shown in the review). I feel like it was a bargain, and I would have paid the $500 for the crazy 1/50 limited copies if I had the cash on hand. I import the novels from the UK just to get the best looking edition of them, and so I can read them 6 months sooner. Buy this series NOW.
Please go pick up these novels. You may have seen the US cover art and been turned off. We don't blame you (remember, Steve imports them from the UK just to avoid the US covers). However, it seems the US is re-releasing trade-sized novels (Nick's favorite type of format) with the new UK covers (Amazon).
AWESOME.
Check out the Malazan online community. They are good about explaining many of the confusing aspects of the series.
http://malazanempire.com/site/index.php
Finally, go by Subterranean Press and check out the Limited Editions they have. They are of amazing quality, and the care with which they handle the shipping of these expensive novels is impressive. http://www.subterraneanpress.com/