Review: The Last Colony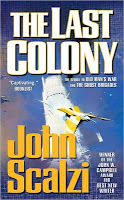 Amazon
We often wondered if the reason Scalzi was nominated for various Hugo awards was due to his insane amount of blogging (why do you think we started this site, eh?). Last year, his novel THE LAST COLONY (Amazon) was nominated for the prestigious 2008 Hugo Award. He didn't win, and initially we thought, "Guess we were right, as always."
The thing is, we read THE LAST COLONY, and realized that he should have won in that field of competition.
Scalzi will be the first one to tell you that he was more than happy to even be nominated, and that the other authors were very deserving of their nominations. Sure, we thought the other 2008 Hugo nominated novels were great, but THE LAST COLONY should have won.

This is the 3rd book in the OLD MAN'S WAR universe (OMW, or as Nick calls it… Steve's life), and it is refreshingly different from the prior two entries. OLD MAN'S WAR (Amazon) won the Campbell award back in 2006, and was a great romp through space and war. GHOST BRIGADES (Amazon), to us, was a disappointment. THE LAST COLONY gives us a look into the colonization process in the OMWU, and gives us back our hero from OMW, John Perry. The political intrigue and interactions in this novel are a welcome addition, and yes, there is violence, and it is great.
Scalzi gives us fast-paced Military SF, and it makes a fun, fast read in THE LAST COLONY.
One of the great things about this series is that the books are accessible to both die hard fans of Science Fiction and those, like Nick, who don't particularly care for it. The mix of science, plot, action, and intrigue were a sort of alchemy that ended up with both of us wanting more at the end of the Trilogy.
Scalzi gives us fast-paced Military SF, and it makes a fun, fast read. As he once told Steve at a convention, if you can't gobble popcorn down with glee while reading his novels, he hasn't done his job. With THE LAST COLONY, that mission was a success.
Recommended Age:

16+

Language:

Ever known anyone in the military that doesn't swear? This is Military SF. Of course there is language.

Violence:

Oh yes. Get your popcorn ready...

Sex:

Not in this one. In the previous two novels, yes, quite a bit.
Scalzi doesn't really need our help, but we feel duty bound to point you to his well managed blog, Whatever (yes, that is what it is called). It is a fantastic blog, and you get to see how crazy he is. That's a good thing. Tell him creator's of the Scalzi Award sent you (you'll have to ask him about it).
Also, if you liked THE LAST COLONY (and you should), pick up ZOE'S TALE. It is essentially the story from THE LAST COLONY told from Zoe's perspective. It was nominated for the 2009 Hugo Award.