Book Series ::
War for the Rose Throne
War for the Rose Throne
Priest of Bones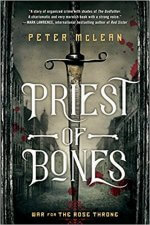 I'm always leery about books that tout themselves as dark and gritty. "I'm dark! Read me!" they yell. "And I'm gritty! Read me!" But what is "dark" and what is "gritty"? So many authors, and even publishers, get it dead wrong all the time. You don't become dark and gritty by including profanity; though such stories usually do contain a bundle of profanity. And stories aren't dark and gritty because there's a lot of violence in them either; although they typically contain a lot of the bloody hack-and-slash as well. And yet, there are constantly those that will try to throw a bunch of violence and profanity into a book and call it "dark and gritty", and then try sliding it in under the noses of you wonderful readers.
<<eye roll>>
When will they ever learn?
Read the rest of this review »