Book Series ::
The Witchlands
The Witchlands — #1
Truthwitch
Safi and Iseult live in a world of witches. They are "Threadsisters," tied by bonds of friendship and magic–and mischief. But after spending their youth under the guidance and training by other witches, they are ready to strike out on their own.
Unfortunately, everyone else seems to have plans for them, and none of those plans include the girls being able to make their own choices.
Read the rest of this review »
The Witchlands — #2
Windwitch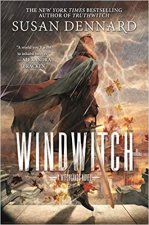 It's been a while since I read the first book of The Witchlands, TRUTHWITCH, so I was a little bit lost when starting WINDWITCH; fortunately I already have book three, BLOODWITCH, ready to read soon, so I won't suffer quite so much. This might be the kind of series that would be easier to read in quick succession so you aren't lost. So much happens over the series that if you do go a while between books, a refresher would be in order, since Dennard starts the story back up where she left off, without much reminders.
WINDWITCH easily improves on TRUTHWITCH, despite our heroines being separated at the end of TRUTHWITCH. Dennard builds on everything that went before, on the characterization, on the story, on the magic, on the world–all toward creating a world with more depth, which I rather like seeing in a YA series.
Read the rest of this review »
The Witchlands — #3
Bloodwitch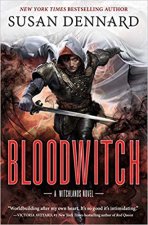 After WINDWITCH's exciting ending, you had to know the story continued, right? Now we're at BLOODWITCH and the continuation of the stories of Safi, Iseult, Aeduan, Vivia, and Merik and their role in protecting the world against the machinations of The Raider King.
Who also happens to be Aeduan's father. Poor kid.
Read the rest of this review »