Book Series ::
The Kithamar Trilogy
The Kithamar Trilogy — #1
Age of Ash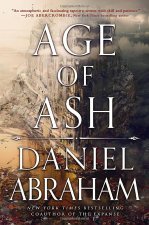 I'm an unabashed fan of Daniel Abraham's work. He's one of those for which I will literally buy anything I can get my hands on. He has a way of telling stories that resonates with me. Whether it be through epic fantasy, urban fantasy, science fiction, or anything else, it consistently feels as if the man can do no wrong.
He's said before that with each project, he sets forth with a certain goal in mind, and I can't say that such goals have ever seemed to be at the forefront of his prose, for me. I think that's one of the great things about his work. I can read them and enjoy the story and the characters without having to understand the author's purpose. If he has a purpose, great. I don't necessarily need to know what that is.
This time around however, the read left me wondering for the first time, what his motivation might have been when sitting down to pen this new novel of fantasy. Because, whatever it was, I kinda don't get it.
Read the rest of this review »