Book Series ::
Stars Uncharted
Stars Uncharted — #1
Stars Uncharted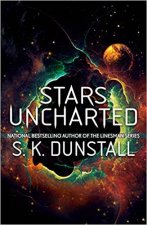 Nika Rik Terri is known as one of the best body modders (as in she modifies human bodies with her machines) in the galaxy. But even those famous for their abilities can make dumb decisions: like, say, hook up with a man who becomes an abusive boyfriend. She makes a business deal with his boss so her ex-boyfriend will leave the planet and harass other people instead. Unfortunately she ends up on the run anyway after her ex's "co-worker" threatens Nika's life.
Josune was recently hired as assistant engineer on the spaceship The Road to the Goberling, but she's there to spy for her boss, the captain of the Hassim, who wants to learn something only Captain Roystan will know. But when the Hassim arrives suddenly out of nullspace with company men on board (think pirate mentality but with corporate backing) and the original crew dead, Josune suddenly finds herself in a predicament.
But neither woman is without resources or smarts, and they must use all their wits to come out of this alive.
Read the rest of this review »
Stars Uncharted — #2
Stars Beyond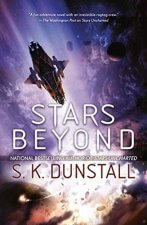 We were introduced to Nika and Josune (our PoV characters) and the eclectic crew of the Road to the Goberling in STARS UNCHARTED (EBR Review), an exciting book full of interesting characters, imaginative science, and some moral dilemmas. Their story continues (and wraps up) in STARS BEYOND (Amazon) as they attempt to shake off their pursuers for good.
Read the rest of this review »