Book Series ::
Linesman
Linesman — #1
Linesman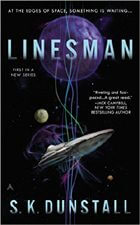 Humans have been traveling the stars for hundreds of years, and use alien technology in order to do it. The alien ship they originally found all those years ago was empty of aliens, but the ship was able to travel faster than light, so humans reverse-engineered the technology. They call the energy the ships use to travel through space "lines," but there's a catch: very few humans can actually repair ship lines.
LINESMAN, by the Australian sister-duo S.K. Dunstall, is the first of a new series about main character Ean Lambert, who is trained as a linesman, but whose strange methods make him a second-class citizen among the linesmen. Traditionally trained linesmen use their minds and will to do the repair work, but Ean can hear the lines and sings to them–much to the derision of his peers.
Read the rest of this review »
Linesman — #2
Alliance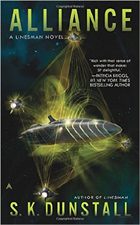 Ean Lambert changed the way people understood the lines that ran spaceships in LINESMAN. Now he and his friends must live with the resultant fallout: the alliances between planets have been shaken up; the Confluence has revealed its true contents; and instead of only ten lines that run spaceships, there are actually twelve.
Who knew some nobody from the slums of Lancia would end up being the instigator of amazing changes in space travel?
Read the rest of this review »
Linesman — #3
Confluence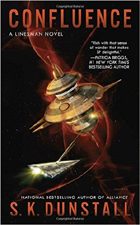 Here we are on book three of S.K. Dunstall's Linesman series, CONFLUENCE. Our friends seem to be barely hanging on because now the Emperor of Lancia, Michelle's father, has decided to assert his influence in the New Alliance, which includes marrying her off for political gain. Emperor Yu also wants his cousin, Ean's trusty bodyguard Dominique Radko, to marry to one of Yu's trusted (and nefarious) advisors–to Ean's dismay. But Michelle and gang are crafty and begin their own maneuverings in order to maintain as much control of events as they can.
Unfortunately, the humans aren't taking the sentient alien ships into account. The ships want a crew now, whether the New Alliance factions are ready to supply crews and linesmen or not. And that may mean the ships start choosing crew without input from the humans.
It feels like everything is on the verge of blowing up.
Read the rest of this review »