Book Series ::
Legacy of Orisha
Legacy of Orisha — #1
Children of Blood and Bone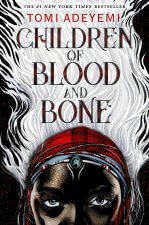 I think there are a lot of readers these days that are "coming to an awareness" of the fact that there are considerably more books written by people that belong to neither the male half nor the white portion of the world's population. Whether they've come to that realization by dint of the more vocal portion of the reader/authorship populace, or just because of their own level of self-awareness, I think that it's by-and-large a good thing. At least, if they decide to do anything about it. I've always been one to share my opinion that I'm a staunch supporter of this widening of our story-source base. At the same time, however, I do my best to never pull any punches expressly because of who the author of a book is or what they've decided to write about. If a story is good, I'll crow about it. If I feel like it let me down, I'm going to say so. And why. I am trying to review these things, after all, right?
This book is the first of my concerted efforts to make sure that the books I choose to read are "diverse" enough. Prior to this point, I just plainly never paid attention. I read what I was given. Granted, there were definitely times when I steered away from cliched-sounding YA or those that looked like they were going to be primarily romantic in nature, but that was about the extent of my filtering. The decision to diversify my reading choices will by no means keep me from passing by a book that just doesn't sound interesting, regardless of who wrote the thing. It will, however, encourage me to make sure that I'm looking for options that will widen my view of what is currently being written in today's publication sphere. I know there are going to be some of our readers that will groan at this, and some that crow. I hope to be able to both disappoint and please all of you in turns and become better overall as a result. Wish me luck.
Read the rest of this review »