Book Series ::
Iskryne
Iskryne — #3
An Apprentice to Elves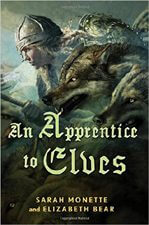 When AN APPRENTICE TO ELVES showed up in my mailbox and I saw Elizabeth Bear and Sarah Monette's names on the cover I totally squeed.
Until I discovered it was book 3 in the Iskryne series–how had I not heard of Bear's new stuff? I loved her Eternal Sky series–start with RANGE OF GHOSTS (EBR Review); I read Monette's MELUSINE and was meh about the story but not her writing craft, which is pretty amazing. I stomped around grumpily for a bit, but decided to dig in anyway without even looking up the first two books. Turns out you can read this book on its own.
Set in an alternate Norse/Germanic wintery island in the north, the men of Iskryne can bond with the local telepathic wolves, with whom they defend the populace from trolls and wyverns. But a new threat is creeping its way into the land: the Rheans (alternate Romans) are intent on conquest, and have the resources to do it.
Read the rest of this review »