Book Series ::
Chronicles of the Black Gate
Chronicles of the Black Gate — #1
The Path of Flames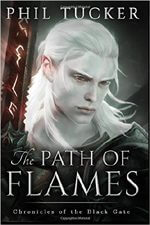 Asho was born into a race of slaves, but by sheer force of will has become the squire of the warrior Lord Kyferin, and in the opening pages of THE PATH OF FLAMES by Phil Tucker, our young hero finds himself on the field of battle. Unfortunately, his side loses, his lord is killed, and he must return home to face Lady Kyferin.
Kethe Kyferin, the daughter of the now-dead lord, wants more than anything to be a knight, even going so far as to make her own chain mail and take secret lessons from one of the castle guards. But she's only a teenage girl, and there's no guarantee that even though her mother is desperate for more knights, the question is if a girl will be accepted as one of them.
Tharok, a highland kragh (kinda like an orc), is on the run from the clan that wiped out his clan and killed his father. He heads deep into the mountains to make a last stand. He unexpectedly survives, and stumbles onto the remains of a kragh legend that will give him the means for his revenge.
Their worlds are about to change completely.
Read the rest of this review »
Chronicles of the Black Gate — #2
Chronicles of the Black Gate — #3
Chronicles of the Black Gate — #4
Chronicles of the Black Gate — #5