Posts that have been tagged with: "
Jennifer Fallon

"

Review
The Lyre Thief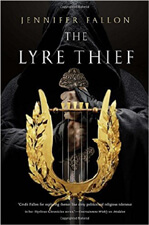 Her Serene Highness Rakaia, Princess of Fardohnya, is off to Hythria to marry a brute of a Hythrun Warlord she's never met and escape the inevitable bloodbath in the harem when her brother takes the throne. She is not interested in marrying anyone and has a plan to save herself if she can just convince her baseborn sister, Charisee, to play along. These two best friends/sisters, though one has been a princess and the other her handmaiden, embark on an adventure of switched identities complete with love triangles and meddlesome gods. Rakaia is rescued by none other than the demon child, R'shiel, who is on her own quest to free her beloved, Brak. Charisee first acts the part, then truly becomes the princess she was never meant to be, which draws the attention of the God of Liars, who is rightly impressed and even helpful.
…And in far off Medalon, someone has stolen the music.
Their quest for the tiny stolen lyre containing the essence of the God of Music will eventually touch all their lives, threaten everything they hold dear, and prove to be far more personal than any of them can imagine.
Read the rest of this review »