Posts that have been tagged with: "
Fredrick Backman

"
My Grandmother Asked Me To Tell You She's Sorry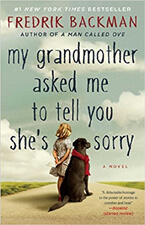 Do you remember, as a young child, that one fantastical story which captured your imagination? Of course you do, because it's the story that molded your childhood. It's the story that filled you with a new wonder about the world around you, and of all that was possible. For me it was the story of Robin Hood. It had adventure, dashing heroes, young love, forests to explore, castles, and evil villains. I read many versions of Robin Hood in my youth and have probably watched every movie or TV show made on the subject. It's stories like these that help us—when we're children trying to understand the world—to discover our own role in the world.
MY GRANDMOTHER ASKED ME TO TELL YOU SHE'S SORRY by Fredrik Backman captures the wonder and joy these kinds of stories have for us. Now, I know MY GRANDMOTHER is strictly a fiction novel, there's no fantasy, not even any unexplainable events—just so you know, because I don't want you to read it expecting that. But I'm sure you do remember what it was like to have those fantastical stories of your youth permeate your life and shape the kind of person you want to be. This is the book that will help you re-live those days.